A Great Lower Chest Workout
Pec Workouts, Lower Pec Workout and Lower Pecs
When performing a lower pec workout, you are building up your pectorals, as well as your ribcage. It is essential that you do not neglect this part of your chest, as when doing bench presses or chest flyes, it is usually just the upper part of your chest that is developed. For a good lower pec workout, the decline bench comes in handy.
Like the incline bench, the decline bench is bent at an angle, usually 45 degrees, but you lay along the bench with your legs hooked on the upper part while your head rests lower than your legs. You may use a barbell or a pair of heavy dumbbells (let's use the latter for this example).
Holding the dumbbells at shoulder level, slowly raise up your arms and stretch them as far as you can. Make sure you can feel your chest muscles contracting with your movement. Remember to exhale with each exertion. Then slowly lower them back down to their original position, and there you have one rep. Do four sets of 12, 10, 8 and 6 reps.
Besides the decline bench or dumbbell press, you may also do decline dumbbell flyes if you prefer. Rather than pushing the dumbbells upward in a straight motion, flyes begin at the sides, with your arms wide open and stretched out on either side of you. Then pull up your arms so that the dumbbells meet above you. Lower them back to their original position for one rep. This is also done in four sets of 12, 10, 8 and 6 reps.
Pullovers are a slightly different exercise wherein you lay across a bench, making sure that your shoulders are firmly at rest and your head is hanging over the edge of the bench. See to it that your knees and thighs are relaxed but aligned with your shoulders. Bring your arms together and hold up one heavy dumbbell with both hands high above you. Then slowly lower it overhead, as far as you can reach so that you feel your lower chest muscles being stretched. Then pull the dumbbell back up to starting position. Again, do four sets of 12, 10, 8 and 6 reps.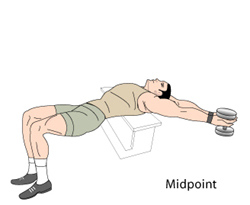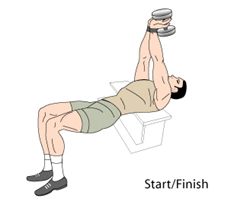 Comments
comments